I just started building up a new HTPC for my lounge, and one of the things that everyone hate is bloatware!
But how would I know what is bloatware and what is a super-duper features that I would be a fool about if I didn't install it?
So I'm doing a lot of research on each driver and utility and decided to write a blog post about my findings. This is to not just to help anyone that is also trying to find out about them, but mainly for a reference in the future if I came across the utility or driver again (maybe on an update session with the supplier website) and needed to know if I really need to update or install it.
For the MSI B75IA-E33 motherboard, I found the following drivers and utilities, some on the driver DVD supplied, and some on their product driver and utility page, and some through the MSI Live Update 5 (LU5) application after it was installed.
General Purpose Drivers
These drivers are no brainers, they update the drivers of hardware to be fully functional. There is no question as to whether you should install them after a fresh OS install.
Intel Chipset Driver
Download: intel_chipset_7_mb.zip
These drivers are used by windows to utilise all the capabilities of the motherboard chipset (north and south bridge). Intel regularly (as in almost monthly) release updates to these drivers. It is recommended to update them regularly, but because this driver is a one-size-fit-all package, after your motherboard is about a year old, you don't need to update the driver that often. This is because the newer versions by that time will mostly fix bugs on newer chipsets rather.
On older OS's like XP, it is required to install this driver so that windows can even start to detect the advanced feature hardware on the motherboard.
Intel VGA Driver
Download: intel_vga_7_mb_81.zip
This driver will add the special Intel control panel to the "Advanced Settings" dialog of the display card. It will also upgrade the drivers to Intel's own, rather than using the windows limited feature drivers. Also highly recommended to install.
Realtek PCI-E Ethernet Drivers
Download: realtek_pcielan_8_mb.zip
This drivers don't add anything special. It is just basic drivers for the Gigabit LAN. I did install it, but did not find anything special popping up.
Realtek High Definition Audio Driver
Download: realtek_hd_audio.zip
This driver is important because it adds all the interesting features of the sound card. You get the application that pops up when you plug something into the audio plugs, the Jack Sensing handler.
Also it allows you to control how the sound card behave when you plug something into the front audio ports.
Advanced Feature Drivers
Intel Rapid Storage Technology Driver
Download: intel_rst_7_mb_8.1.zip
This driver unleases a lot of the SATA features. You really want to ensure you install this driver. I initially thought it was only useful if you used a RAID setup. But it also adds features like Native Command Queueing, Drive Power Management and it enables 6Mb/s transfer rate for SSD and high RPM drives. If you don't install this, you really lose a lot of the advanced features of your system, including performance that no one wants to lose.
It also adds a little icon in the taskbar that you may want to disable. It does not have any function other than showing warnings if there is trouble with your storage system. I believe that unless you have a RAID setup it will not show any notifications. See the note in the help files:
Lastly note that in order to use Intel Smart Response Technology, you have to configure the SATA controller to function in RAID mode, and then install this Rapid Storage Tech driver, and then use the Rapid Storage utility to configure the additional SSD drive as a cache disk. For a better explanation of the setup read Marco Chiappetta's post @ PCWorld. or Intel's quick explanation.
Intel Rapid Start Technology Driver
Download: intel_rstrt7_mb.zip
For starters this has nothing to do with "Fast Boot" it is 2 seperate technologies. Also you need to configure a special partition before you install this driver. For instructions on installing it for GPT read the PDF released by Intel.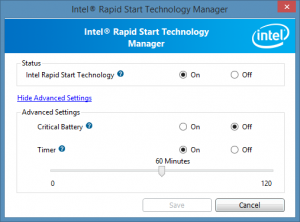 This driver enables a feature whereby you can configure a pre-set time delay that the system will stay in "sleep" mode (once you put it there) and then briefly wake to dump all the memory on a SSD drive partition.
This is similar to "hibernation" but it is a lot more clever than just hibernation.
This mode does not save the memory dump to a file on the file system. This allows it to save to a separate partition that is not necessarily on the same disk as the OS is installed. It also don't save a plain memory dump, but rather have advanced ways of cleaning up the memory to save only what is really needed.
It does however also put the computer in a total "off" state, that enables zero power consumption, and "protection" against power outage. But because windows thinks it is returning from a sleep state it is responsive a lot faster than it would be returning from a hibernation state. Also probably the best time-saver is the fact that your PC will switch on as if it was in a sleep state by not performing any POST routine.
Setting Up Process:
For this to work you will basically perform 3 steps. The first is simply to enable the technology in the BIOS, this is needed because the timer that wakes the system out of the sleep mode so that it can enter the special "Deep Sleep" state is controlled on the BIOS level. And the restore of the memory data is also performed by the BIOS.
The second step will be to configure the partition as explained in the instructions (in the link above). This is a daunting task as it requires you to work in the command prompt window and do some basic partitioning tasks. Also note that you will never format the required partition, as it stays raw. By setting the "id" of the drive, you effectively set the file system type, but not to something that any OS can use to save files and folders.
Lastly you would install this driver to enable the system to do the complicated stuff required to clean up the memory to reduce the size required to be staved.
Intel Management Engine Driver
Download: intel_amt81_win78_xp.zip
There is not a lot of information on the purpose of this driver available.  Although this driver is required by the MSI ClickBIOS II that you get under the Utilities (explained below).
So far as I can understand it, it is a simple API interface to the BIOS that allow applications to control (for the purpose of ClickBIOS) over clocking parameters on the BIOS. This also include some nifty features that is not like the "scary" stuff that could kill your CPU if configured incorrectly.
One particular feature is the "Intel Turbo Boost" feature, that pushes the CPU a bit harder when work load is heavy.
This driver also installs a lot of features that seems to be important to enterprise networks. This include a "Anti-Theft" feature that you need to subscribe to for it to work. And some other AMT features which you can read of on the official Intel page the wiki page also have a very good explanation about the features of AMT.
Included in ME Driver Installation
When you run the setup of this driver, you also have the option of installing "Intel Control Center". This is the only utility you have a say over if it will be installed. You also get a bunch of other utilities.
Intel Control Center
Intel Management Engine Interface
Intel Dynamic Application Loader
Intel Identity Protection Technology (Intel® IPT)
Intel Management and Security Status
Local Management Service
 Intel Control Center
This utility also has very limited use. It is basically a GUI that has 2 buttons. From these 2 or 3 buttons you can open:
Intel Rapid Storage Technology
(also accessible by the Start Menu shortcut)
Intel HD Graphics
(also accessible by the desktop right click context menu)
Intel Management Engine Interface
This interface is required to enable ClickBIOS to have access to some of the motherboard overclock features. It is also required for the MSI Control Center. This is also required to allow for remote management of the PC even when powered down.
Intel Dynamic Application Loader
I believe this features allows administrators to install and run applications from a remote location on the machine.
Intel Identity Protection Technology (Intel® IPT)
This is a really cool feature. I don't know how exactly it works, but it basically protects your system from being stolen and operated on a remote location. It functions even if the OS is reinstalled.
Unfortunately you need to register and pay for a subscription of this service. So it is not available to anyone who wants to try it out.
Intel Management and Security Status
This is again a little status utility that basically gives you shortcut access to all the Intel ME features, and also shows a list of Event Histories.
Local Management Service
I could not find any information about this feature.
Intel Smart Connect Technology Driver
Download: intel_sct _7_mb_81.zip
This driver has 2 features that is prominent. The first would be the feature where it regularly wake the PC so that any applications that are open (when it was put in "sleep" mode) can update their data. This is useful for Email and other cloud sync applications.
The second feature allows you to access your PC from anywhere. It allows you to control it by switching it even on if it is off. And you can access files remotely. You can also run commands on it (like terminal window). This feature will work in conjunction with Intel Rapid Start Technology.
Currently Intel supports MeshCentral.com as a remote access website. Inside the driver zip file, there is a pdf with instructions on setting up MeshCentral.com.
Small Business Advantage
Download: intel_sba_mb.zip
This is basically a suite of software utilities. They provide features that are mostly focussed at (small) business environments. A very good reference would be the article on Tom's Hardware.
Most notably is the ability to schedule start-up and shutdown times. This allow your PC to be ready when you arrive, and also shutdown by itself when you just get up and go. The most important feature that differentiate it from the rest, would be that even if you have shutdown your pc, it will wake up on schedule.
Also you can schedule maintenance tasks to be completed at night, like virus updates, defragment and deleting temporary files.
Utilities
Network Genie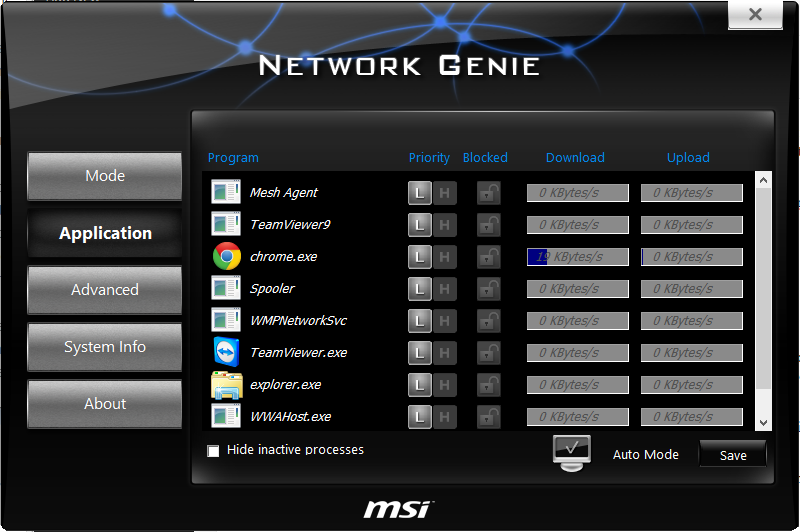 Download: NetworkGeni_mb.zip
This utility makes me think of NetLimiter. It is a simple utility that puts limits on the amount of internet bandwith that each application can use. This basically gives priority to applications that has time critical operations.
Though this sound like a useful feature, it really does not prove very useful because you have to constantly change the requirements as you go about your days work. It does have profiles that tend to set the priority on selected applications, but I don't see this working for me.
If I constantly have to check to see if my browser is maybe slow because of Network Genie, or maybe my ISP is congested, or maybe my ADSL is getting out of sync… that will just drive me nuts.
 Live Update 5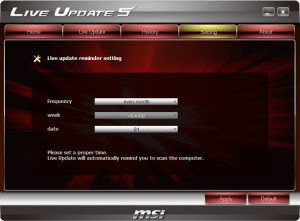 Download: LiveUpdate.zip
This utility is very handy. It keeps checking the MSI website regularly to see if there is any driver updates. Normally when I have finished setting up a PC, I tend to let it be. Rather than regularly checking if new drivers was released by the vendor. This is in part because vendors hardly ever release new versions of drivers. But with this utility constantly checking for it, you can rest assured that in the event that a new driver IS released, you will know about it.
Unfortunately Live Update does not play to nice with Windows 8.1. Everytime it starts on Windows boot, it shows a User Account control dialog that you have to approve. That defeats the purpose of sitting in the background and checking for possible updates.
Super Charger (W8)
Download: SuperCharger_mb.zip
If you like to charge your mobile or tablet of your PC's USB ports, this utility is for you. It basically allow the OS to up the current to your front USB plugs so that they can charge mobile devices faster. This is very useful for tablets that require a faster current to charge quicker.
Tip: If you would like to keep your USB plugs powered even when you have shut down your PC, you need to disable the "EuP 2013" feature in the BIOS. This is because that feature severely limits the standby current that the PC may use, and thus may not supply charge current to USB plugs.
CLICK BIOS II
Download: clickbios2_mb.zip
A very useful utility that allows you to change your BIOS settings from windows. This is due to the new UEFI interface that the board use, that allow any application to control the BIOS settings from the OS side.
For this utility to function completely you need to instal the Intel Management Engine Driver mentioned above.
Control Center
Download: ControlCenterIIv25_mb.zip
This utility allows you to monitor your PC for overclocking purposes, or just to keep an eye on temperatures for instance. It is also the starting point for the "Overclock Genie" that can be used to instantly and automatically overclock your system.
For this utility to function completely you need to instal the Intel Management Engine Driver mentioned above.
Fast Boot
Download: FastBoot_mb.zip
This is a must have utility if you want to use the "MSI Fast Boot" feature of the BIOS.
This utility allows you to boot into the BIOS, because it is impossible when you have Fast Boot active. Also it allows you to switch it off, if you need more time during POST to hit F keys.
MSI SUITE
Download: msi_suite_win78.zip
This utility is a tray type application that creates a little ball icon on the top of your desktop, so that you can click it to get quick access to all the MSI utilities.
This is really a time waste for me, but because it allows you to control some of the utilities functions directly (even those that does not want to open to show a GUI) it is useful in that sense. I found that with this utility I could see updates from Live Update while the actual application just showed nothing.
Luckily you can also control the icons that it display, so you can disable any icons you don't use.

Included in MSI Suite (Additional)
Apart from giving you a central location to operate some of the other MSI software above, this suite also install a few extras. But I must warn you there use is limited.
Video Genie
This utility has one purpose, and that is to "tune" your screen contras. Why MSI opted for a single application with this very basic purpose, I don't know. It even assosiate a shortcut to set and reset the values! I must say, it did actually made my screen look "better", but it did not look terrible before.
 SafeSync
This utility is just another cloud storage service. And it does not provide a free account as a lot of the other do. It does boast about a free version, but it is only a 30 day trial. I don't recommend installing SafeSync because there are to many better alternatives available.
Easy View
This is really a joke of an utility. The idea of a picture viewer is not that bad, but the GUI can do with some finetuning. It looks terible. And it consumes extremely resources. Even my i5 processor was struggling to navigate the cursor over the application.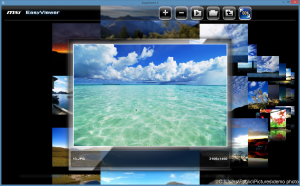 Intel Extreme Tuning Utility
This utility does the same thing as MSI Control Center: Allow you to tune/over clock from within windows. It also shows you monitoring values like temperatures and fan speeds. I just think it looks a lot better than the Control Center. Though the Control Center is not that bad looking.